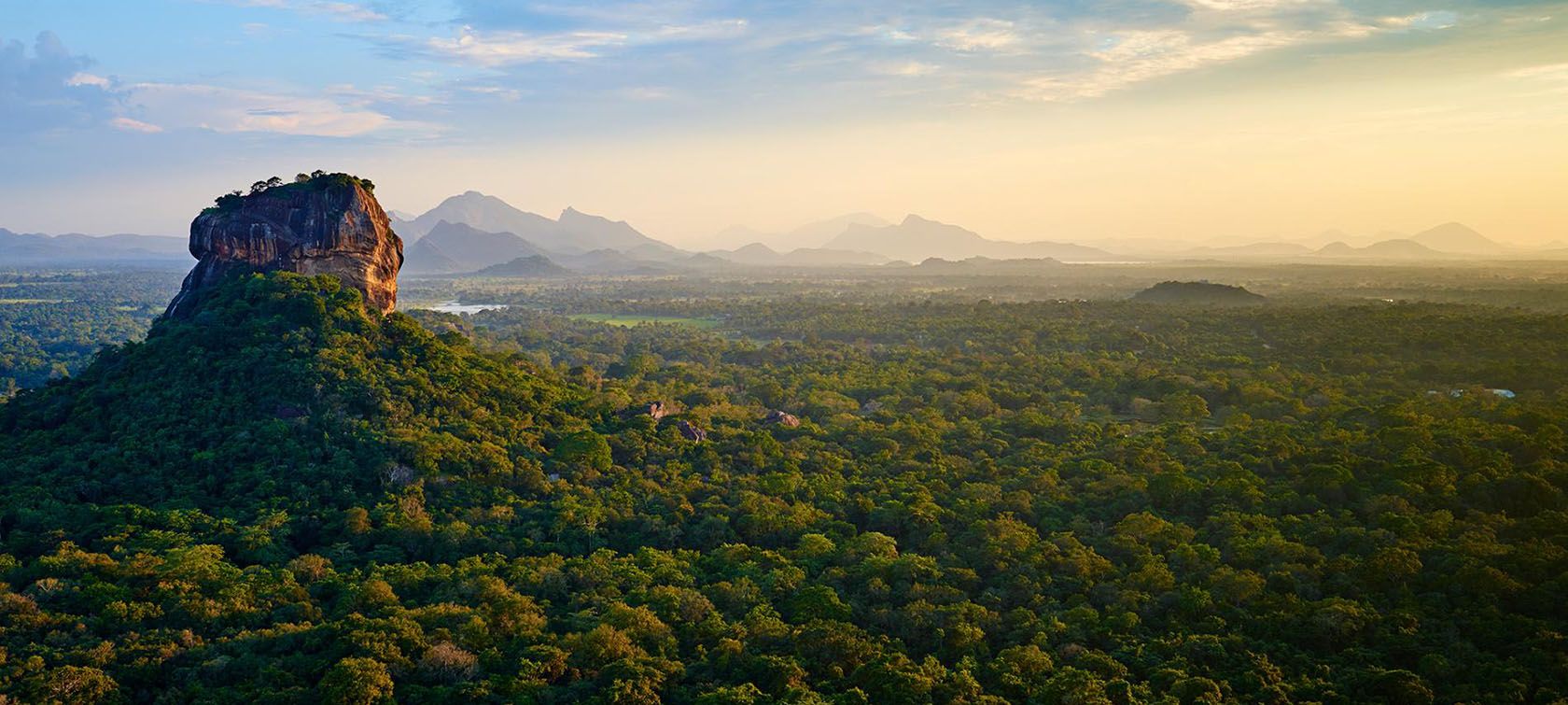 STARTING FROM. INR. 58100/-
Day 01: Airport- Negombo
Arrive by (flt no) at (00hrs). Please clear immigration & visa formalities, collect your baggage and proceed to the arrival lounge through the green channel if you do not have goods to be declared to customs.
Our Representative will page you by your name. Thereafter you will be assisted to the Car park / Coach Park to begin you journey as per the booked itinerary.
Proceed to Negombo hotel to the overnight stay.
 Day 02: Negombo – Habarana
After breakfast,
Dambulla. Visit cave temple
Dambulla cave temple also known as the Golden Temple of Dambulla is a World Heritage Site in Sri Lanka, situated in the central part of the country. This site is situated 148 km east of Colombo and 72 km north of Kandy,
Overnight stay at a Hotel in Habarana.
Day 03: Habarana
After breakfast at the hotel proceed to Habarana. Visit a spice garden on the way and Sigiriya Rock Fortress
Sigiriya Rock Fortress
Sigiriya is home to the 5th Century "Fortress in the Sky" which is perhaps the most fantastic single wonder of the Island. It is also known as Lion Rock because of the huge lion that used to stand at the entrance to the fortress. Within its triple-moated defence the huge rock rises almost to a sheer height of 500ft. On its summit are the foundations of what was once a great and sumptuous palace and gardens complete with swimming pool. On one of the stairways the only known ancient work of Sinhala secular painting survived in the form of Frescoes of life sized damsels in all the freshness and delicacy of their original colour.
Overnight stay at a Hotel in Habarana.
Day 04: Habarana – Kandy
After breakfast,
City tour of Kandy
Kandy – the hill capital, venue of the annual Perahera. The last stronghold of the Sinhala Kings was finally ceded to the British in 1815. Kandy is an example of the Buddhism's influence in Sri Lanka today. Temple's shrines and monasteries keeping alive Buddhist traditions are everywhere.
Evening witness the Kandy Cultural Dance Performance
Overnight stay at a Kandy in Hotel
Day 05: Kandy – Nuwara Eliya
After Breakfast,
Royal Botanical Gardens
147 acres in extent: started in 1374 as a pleasure garden of the Kings of Kandy. There are more than 5000 species of tree and plants. Some and endemic as well as flora from the tropical world. Spice garden and Orchid House are popular with Tourists.
Overnight stay at Nuwara Eliya Hotel.
Day 06: Nuwara Eliya
After breakfast visit tea factory plantation and enjoy a city tour.
Nuwara Eliya
The 'Little England' of Sri Lanka, is set against beautiful backdrops of Mountains, Valleys, Waterfalls and Tea Plantations.  It is supposed to be one of the coldest places on the island, but is really just like an England spring day although the temperature does drop at night.
All around NuwaraEliya you will see evidence of the British influence.  Houses are like country cottages or Queen Ann style mansions.
Overnight stay at a Nuwara Eliya hotel.
Day 07: Nuwara Eliya – Yala
After breakfast Transfer to Yala. Safari at Yala National Park
Ruhuna National park or more affectionately known as Yala, has been the most celebrated wildlife park in Sri Lanka for over a century, along with its first self-appointed Boer prisoner of war game warden H.E.Engelbrecht, quiet a story in itself. "Yalagama" as it was known at the turn of the century, was in effect the "Resident sportsman's" shooting reserve! A wild country reserved for the "Sporting pleasure" of the British residents in Sri Lanka. It is located in a tract of land covering approximately 1260 km2, between Kumbukkan River & Menik River, and shares its borders with Yala strict nature reserve, Kumana, Kataragama, Katagamuwa and Nimalawa sanctuaries. The climate is semi-arid and dry with scrub jungle unique to this area along with rocky outcrops like kotigala, Jamburagala & Patalungala (Pattangala) strewn about the park, while several fresh and brackish water lagoons dot the park.
Overnight stay at a Hotel in Yala
Day 08: Yala – Bentota
After breakfast Proceed to Bentota,Leisure at Beach
Overnight stay at a Hotel in Bentota.
Day 09: Bentota
After breakfast at the hotel Visit Turtle Hatchery Kosgoda,
Kosgoda is famous for its sea turtle conservation project operated by the Wild Life Protection Society of Sri Lanka. It was established in 1988 to protect Sri Lanka's turtles from extinction. Since then it has released about 3.5 million baby turtles into the wild.The hatchery pays fishermen for eggs that they collect at night along the long sandy beach. Although October to April is the main laying season, some eggs (mostly green turtles) can be found at Kosgoda throughout the year.The hatchery buries the eggs in sand, and when they hatch around 50 days later the baby turtles are released into the sea at night. Only about one in 1,000 turtles survives to maturity.Kosgoda turtle hatchery also has tanks for injured or disabled turtles, including albino turtles that would not survive in the wild.
Proceed to Madu ganga boat ride
Madu Ganga for a Boat Ride
The estuary of the Madu Ganga River is a complex coastal ecosystem of mangroves and islands. It may be one of the last remaining tracts of pristine mangrove forests in Sri Lanka. A boat trip is a wonderful way of seeing some of the hundreds of species of plants and animals – monkeys eat fruit in the trees, a water monitor lizard glides slowly through the water, and cormorants, egrets and kingfishers wait patiently on the banks, eyeing the water for prey. There are around 64 islands in the river and lagoon, from a tiny speck housing a deserted shrine to one housing 250 families connected to the mainland with a very long footbridge. You can visit an island with a Buddhist monastery, where the friendly young monks will show you a 150-year-old book made of palm leaves and how they cook on cinnamon wood on an open fire. The main occupations of the local inhabitants are producing cinnamon and prawn fishing – if you take the trip in the evening you will see the fishermen in their canoes lighting lanterns to attract the shellfish into their traps.
(OPTIONAL WATER SPORTS ACTIVITES)
Overnight stay at a Hotel in Bentota
Day 10: Bentota – Colombo
After breakfast at the hotel leave to Colombo,
City tour in Colombo + Shopping
Colombo – a drive through the city taking you to the busy commercial areas as well as the tree-lined residential, Cinnamon Gardens. Visit Fort, the former British administrative center and military garrison, Sea Street – the Goldsmith's quarters in the heart of Pettah, the Bazaar area, where is also a Hindu Temple with elaborate stone carvings, and the Dutch Church of Wolfendhal dating back to 1749. Also visit the BMICH, see the replica of Avukana Buddha and Independence Square.
Overnight stay at a Hotel in Colombo.
Day 11: Colombo – Airport
After breakfast at the hotel leave to Airport for Departure
---
PRICE INCLUDES:
Accommodation on BB basis at hotels specified or similar
(Note: Breakfast entitlement will be from 02nd Day Breakfast to Last Day Breakfast)
Meet and Greet at the Airport by the English Speaking Chauffer.
Transportation in an Air conditioned Vehicle
Sightseeing tours as per the Programme
All transfer from arrival to departure
A.T.(Value add tax )
DOES NOT INCLUDE:
Airfares or VISA charges.
Lunches & Dinners during the tour.
Early check in or late checkout.
Camera and video permits
Any Entry Fees / Activity Charges
Compulsory Supplements & Peak Period Supplements
Any expenses of a personal nature
Tips and porterage
SUPPLEMENT CHARGES:
Cultural Dance Show – INR 520.00 per person
Sigiriya Rock Fortress – INR. 1950.00 per person
Dambulla Cave Temple – INR 715.00 per person
Yala National Park – INR 1625.00 per person + (INR 2600.00 per jeep up to 6 pax)
Boat Ride @ Maduganga – INR.650.00 per person
Turtle Hatchery – INR.325.00 per person
Water sports activities – INR.2600.00 per person – Any 3 activities from them (Banana rid e, tube ride , boat ride , jet sky )
Peradeniya botanical garden – INR.715.00 per person
Kandy temple – 715.00 per person
CHILD POLICY:
Children 00 – 03 Year will be on FOC
Child 03 – 11.99 years sharing parents will be charged 20% of twin per person rate (based on 02 pax)
Child 03 – 11.99 years with an extra bed will be charged 40% of twin per person rate (based on 02 pax)
CANCELLATION POLICY:
Any Cancellation should be done 30 days prior to arrival), in failure of this 100% cancellation fee will be applied.
0